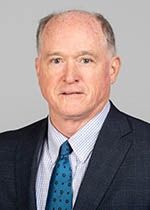 Dr. William Clark
Associate Dean
Office of the Dean of the Graduate School
Email
Phone
Bio
Dr. William Clark is the Associate Dean of the Graduate School at Penn State. An alumnus of Penn State, Dr. Clark most recently spent twenty-six years on the faculty at Louisiana State University as professor and chair of the department of political science. While at LSU, Dr. Clark served as director of the master's degree program in liberal arts for 10 years, as both director of graduate studies and as an undergraduate adviser in the department of political science, and served on the system-wide Executive Graduate Council.

As Associate Dean, Dr. Clark will primarily focus on graduate program review and assessment for all of the graduate degree programs at the University. Additionally, he will be involved in the coordination of professional development activities for graduate faculty that promote best practices in graduate education. Dr. Clark will also report on the Graduate School's progress in meeting strategic plan goals and will oversee the development and continuing enhancement of standardized graduate program data resources to support meeting program quality objectives in every graduate degree program.

A native of Philadelphia, Dr. Clark received his bachelor's degree in political science from Penn State, a master's degree in political science from Drew University, and a doctoral degree in political science from the University of South Carolina.