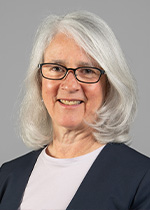 Dr. Sarah Ades
Associate Dean, Graduate Student Affairs
Office of the Dean of the Graduate School and Office of Graduate Students Affairs
Email
Phone
Bio
Dr. Sarah Ades is the Associate Dean for Graduate Student Affairs. In this role, she serves as an advocate for all graduate students and helps address their issues and concerns. Dr. Ades joined Penn State in 2002 and is an associate professor of Biochemistry and Molecular Biology in the Eberly College of Science. Her research focuses on investigating how information is communicated between the two compartments of a bacterial cell, the cell envelope and cytoplasm and leveraging this knowledge for antibiotic development. She is the recipient of a prestigious Faculty Early Career Development Award from the National Science Foundation and a winner of the GlaxoSmithKline Discovery Fast Track Competition.

Dr. Ades is also an award-winning teacher and has developed courses designed to help students master fundamental concepts of biology through scientific inquiry. She is a recipient of the Penn State Teaching Fellow Award, the Alumni Association and Student Award for Teaching Excellence and the C.I. Noll award for Excellence in Teaching from the Eberly College of Science Alumni Society. She brings this student-centered approach to her position at the Graduate School.

Prior to arriving at Penn State, Dr. Ades received her bachelor's degree in molecular biophysics and biochemistry from Yale University and Ph.D. in biology from The Massachusetts Institute of Technology. She pursued postdoctoral work at University of California, San Francisco and the Institut de Biologie Moleculaire et Cellulaire in Strasbourg, France.