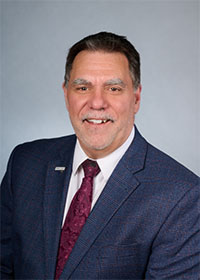 Dr. Michael Verderame
Senior Associate Dean
Office of the Dean of the Graduate School
Email
Phone
Bio
Dr. Michael F. Verderame is Senior Associate Dean of the Graduate School at Penn State. Prior to his appointment, Dr. Verderame was a respected educator, mentor and leader at Penn State's College of Medicine, where his many significant accomplishments during 25 years of service included the first revision of the graduate Core Curriculum in more than 10 years, the reorganization of the doctoral graduate programs, and service on numerous College committees and peer review positions with the National Institutes of Health. Under his leadership, the Graduate Student Association wrote a Graduate Student Oath (analogous to the more widely known Hippocratic Oath taken by medical students) that has become the capstone of incoming students' orientation, and has been incorporated into Commencement.

Appointed as assistant professor of microbiology and immunology at the College of Medicine in 1989 and named Associate Dean in 2004, Dr. Verderame joined an elite group of faculty when he was honored as a College of Medicine Distinguished Educator. A member of the Graduate Faculty at Penn State, Dr. Verderame is a longtime member and previous chair of the Association of American Medical Colleges' Graduate Research Education and Training Group Steering Committee that impacted biomedical research and graduate education, both locally and nationally. He remains a co-principal investigator for a Department of Health and Human Services Office of Research Integrity research grant, and has published more than 65 peer-reviewed articles.

Dr. Verderame received his undergraduate and graduate degrees at Columbia University and completed a postdoctoral fellowship at the University of California, San Francisco, before joining the faculty at Penn State's College of Medicine.